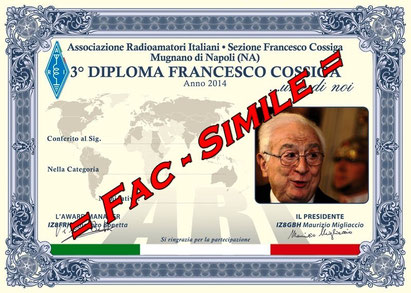 The A.R.I. Francesco Cossiga located in Mugnano di Napoli (NA) establishing a permanent nature the third award Francesco Cossiga I0FCG, hf on the ranges, in order to increase the activity DX, experimentation and research on these bands.
The award is dedicated to the memory of Francesco Cossiga I0FCG President emeritus of the Italian Republic. Francesco was one of us (radioamateur)!
Period of performance: From 07.00 UTC on January 18, 2014 at 19:00 UTC on February 02, 2014.
Partecipation: The Award is open to all OM and SWL in the world.
Software: The Award can be managed by both activators that participants with the software You Log created for the Francesco Cossiga Award.
Downloaded from the website: www.arifrancescocossiga.it
Bands: Frequency 3.5 MHz (80m) - 7 MHz (40m) - 14 MHz (20m)
Mode: SSB, CW, (digital RTTY e PSK31).
FaceBook event: www.facebook.com/events/501230826642526/

La sezione A.R.I. Francesco Cossiga sita in Mugnano di Napoli (NA) ha istituito a carattere permanente il diploma Francesco Cossiga I0FCG, sulle gamme HF, al fine di incrementare l'attività DX, la sperimentazione e ricerca sulle bande suddette.
Il diploma è dedicato alla memoria di Francesco Cossiga I0FCG Presidente emerito della Repubblica Italiana. Francesco è stato uno di noi!
Periodo dello svolgimento: Dalle ore 07.00 UTC del 18 gennaio 2014 alle ore 19.00 UTC del 02 Febbraio 2014.
Partecipazione: Al Diploma possono partecipare tutti gli OM ed SWL del mondo.
Software: Il diploma potrà essere gestito sia dagli attivatori che dai partecipanti con il software You Log realizzato ad hoc per il diploma Francesco Cossiga.
Scaricabile dal sito: www.arifrancescocossiga.it
Bande: Frequenze 3,5 Mhz (80m) – 7 Mhz (40m) - 14 Mhz (20m)
Modi: SSB, CW, (digitali RTTY e PSK31)
Evento su FaceBook: www.facebook.com/events/501230826642526/